Our Teachers and Assistants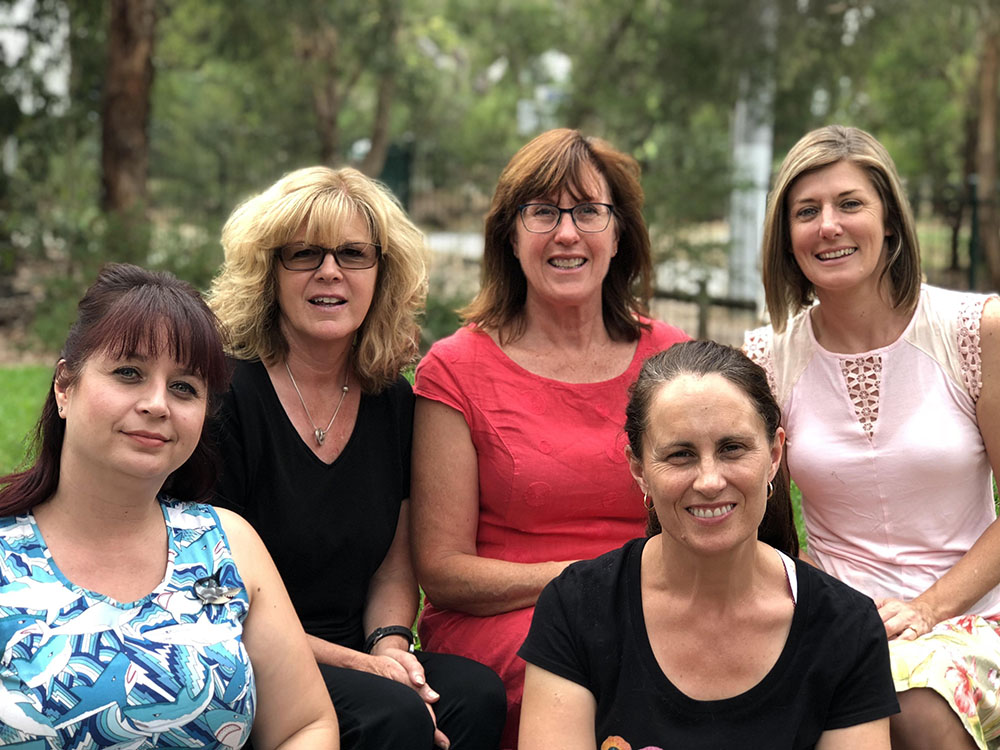 From left to right – Poppy Gerakas, Kerry Anderson, Michelle Hughes, Angela Broeren and Justine Wickham
Michelle Hughes, 3 Year Old Teacher (centre)
"I've worked as a kindergarten teacher for over 30 years in a variety of settings and locations, both in Australia and Papua New Guinea. I've been at Eltham South for 20 years, and our co-educators have been associated with the kindergarten for over 15 years which makes for a very stable and supportive teaching body. Having completed some years of Steiner education training, and music education, these have contributed to enriching the program for the children here at Eltham South Preschool. It is a pleasure to come to work at Eltham South Preschool each day!"
Justine Wickham, 4 Year Old Teacher (far right)
"I have worked in the early childhood industry for over 20 years. I love helping children to develop resilience, determination and kindness. It is important to me to encourage children to develop life skills through role play, meditation, discussion and fun. I am so excited to be teaching with an amazing team of educators in a beautiful setting."
Our Community
---
Eltham South Preschool is not just for kids! Families play a big part in making it such a special place. Parents can help during kinder sessions and there are times when parents, grandparents and special friends are invited along to join the class.
We have events for families throughout the year: a welcome brunch, working bees and regular fundraising events – we welcome your participation!
At Eltham South:
We are fortunate to have a delightfully large, natural outdoor playground with scope for gross motor skills such as running, climbing and digging as well as spaces for small, cosy play such as "cooking", "tea parties" and constructing.
Our program includes music every day, provided by our teachers who attend music conferences each year to keep current with music education.
Our indoor space is architect designed and in keeping with the local character of Eltham. It also features a finial on the roof created by a local artist, Matcham Skipper. The building is of historical and heritage significance, as it is triangular – one of a kind! The architect planned it with no right angles, believing it would create a harmonious play space for children. We certainly agree that it is a beautiful place to play and work each day!